Tamper Evident Labels
Poly Label
What are Tamper Evident Labels?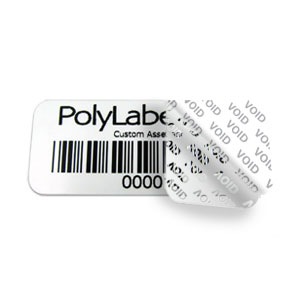 To protect valuable assets, organizations and companies may use a tamper-evident label. Most people are familiar with these labels. For example, we have tamper-evident labels on food items. When you go to the store and pick up a product such as a tin of muffins, you're buying a product that is sealed. It may have a label across the opening of the product. If this seal is broken, you know that the product may have been tampered with.
About Tamper Evident Labels
Other items, that will contain a tamper-evident label are often used on
Over the counter drugs
Packaging materials
Cleaning solutions
Manufacturers apply these labels to products to ensure that the product is safe when the customer buys it. When you purchase a product, you want to know that the product hasn't been tampered with. These labels provide evidence that the product hasn't been tampered.
What Makes a Label Tamper Evident?
A seal or a tamper-evident label is one that has one or more barriers or indicators to entry. If this label is missing or breached, then the consumer has a clear indication that the tampering of the product may have occurred.
The barrier or the indicator has to be distinctive by its design. The label can't be easily duplicated by someone. It has to come up from materials that are not easily available to the general public.
When you examine a package that has one of these labels, you'll get an indication that either the package is secure or that the package may have been tampered with.
This is the purpose of these labels to ensure the security of the product. to be classified as one of these labels, there has to be a clear indication that the product has been tampered with.
Benefits
The main benefits of these labels are that they ensure that products are secure and safe. It also provides an indication that the product may have been tampered with.
It is important to have these labels on things such as medicine and food. It also helps build customer trust because of customers buying your products knows that it's going to be safe if it has one of these labels.
Food Deliveries Trend
Consumers will probably see more of these labels on food products and products that are delivered to the home or office. Some items are delivered from restaurants or a food-service outlet. These labels are found on home delivery items and can ensure that the delivered product hasn't been tampered with.
Food service outlets and restaurants want to ensure that any home deliveries are tamper-proof so that they arrived safe and intact to the intended customer. There can be different information on the label, such as the company's name or logo. You might find safe handling instructions or the time when the food was prepared.
Conclusion
A tamper evident label a way to secure products. It ensures that the product is going to be safe for the customer and that problems don't occur. If you would like more information on the use of tamper evident labels, please feel free to contact us at PolyLabel.com.  You can either call us directly at 519-743-3422 or use our contact form.
PolyLabel.com Tamper Evident Products