Security Labels – Protect Your Assets
Protect your assets, inventory, products, brand or business with our cost-effective security labels.
Polylabel specializes in the rapid production and shipping of high quality custom security labels. Choose from our assortment of security label materials and we'll add your logo, custom text and/or serialized barcode numbers.
We provide labeling solutions targeted to meet your specific security seal needs. We can e-mail proofs of your security seal layouts to speed approval and, where there is enough time, we can mail out physical samples as well. Labels are available in small runs and fast turnaround … usually 1 day. All design options on our security labels are available at NO extra charge.
Tamper Evident Security Label Materials
We offer several label materials that can be used for security labels purposes, each with it's own distinctive characteristics. Graphics, text and barcodes will never fade because they are permanently placed on the labels using our full resin printers, essentially making the ink part of the label. Security seal materials are listed below.
PolyVoid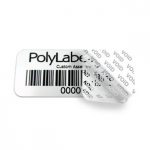 PolyVoid is a 3M white polyester (Mylar) tamper evident label, which leaves the word "VOID" on the surface and on the label if lifted! Extra Durability for outdoor use.
PolyBreak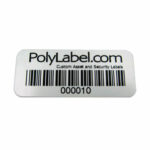 PolyBreak is a white, semi-gloss polyester, destructible material. This material has a very aggressive adhesive (solvent based) and easily breaks up at any attempt at removal.
PolyCheck – Platinum or Chrome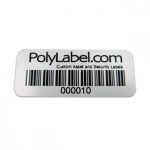 PolyCheck Platinum or Chrome labels are made of durable polyester material. This material is produced in two-parts with an adhesive that leaves behind a distinctive checkerboard pattern when tampered with or removed. Please Note, PolyCheck Chrome should not be used with barcodes because of the high reflective surface.
Permanent 'Strong Adhesion' Security Seals
In some cases, our clients require that their security labels are permanent strong adhesive labels. Fortunately, we can accommodate this using our PolyAsset material.
PolyAsset – Platinum or White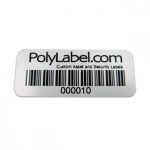 Our standard asset label material is a non-tamper evident, extra durable Platinum (metallic/aluminium) or White semi-gloss finished polyester mylar labels. The high durability and adhesion of these labels make it a popular choice for security label applications.
Over Laminate Protection for Larger Labels
Add increased durability to any larger sized labels with clear over laminate labels. This will give your labels increased protection against both abrasion and chemicals.